Where are you from?
I was born in New Hampshire and lived in several areas throughout the state until we moved to Houston in 2016
Tell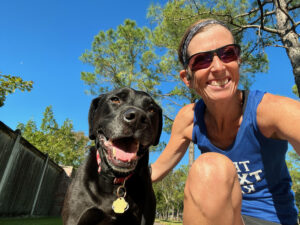 us about your family.
I have been married to my husband, Andrew, for 25 years. We have a 20 year old daughter who is working toward her bachelor's degree in Global hospitality leadership. We also have a dog Dylan who used to run with me but now likes to lie down in the middle of the road, and a very large cat who will never run.
What's your profession?
Shoe fitter extraordinaire at the one and only GTRC.
When did you start getting into running/walking?
When I was 14…so basically yesterday (haha).
Why did you start?
My dad used to come home from work and go for a run, and I thought that was just the coolest. So I started running with him so I could spend more time with him. Then I realized how much it calms my mind and makes me happy (as corny as that sounds) so I just kept running for fun, really. I ran track for one season in high school until an ill-fated day with hurdles. Once I recovered from that picked it back up again on my own and have never stopped – it has been said I am the definition of consistent. I have always been lucky enough to have a group/run partner I run with no matter where I've lived. It is through those groups have found my closest friends. I've run 3 marathons, 20+ half marathons over the years, and have no idea how many 5 and 10k's. I never really ran to see what I could do until I met Jen Ingram/Sonic Endurance! With her help I achieved things/times I never thought possible!! Having her next to me when I qualified for Boston was one of those things!
What are your most memorable races?
I have 2 that tie—- a race I did with my dad when I was in my 20s…just a really cool experience to have him next to me….and the second, crossing the finish line and looking up to see the numbers on the timer that I qualified for Boston! When I lived in NH I used to go and watch the Boston Marathon each year, never thinking I'd actually get to run in one day!
Are any races lined up?
The run portion of the Ironman 70.3 Galveston relay in April and beyond my wildest dreams, the Boston Marathon!
Do you have any fitness/wellness/race goals for 2023?
I have been extremely lucky as a runner to not have run injuries. As I'm getting older (ahem…) I realize (see coach, I'm listening!!!) I need to work on strength so I can keep this up as my husband says the day I can't run anymore it's going to be ugly and he's going into hiding…. I love hiking/camping and skiing and my husband and I hope to do more of that over this next year
Other interesting facts/info: 
I used to work at a running store my friend owned in NH when in my 30s and loved it. Never thought I'd have the opportunity to work at an independently-owned store again…fast forward and here I am! Such a great job – helping people feel comfortable doing the thing I love, and being able to work every day with friends!! Also, I'm a talker…and have the gift of being able to talk no matter how hard we run…I hear that when I'm not on the group runs, it's kind of quiet…. And even though I have been running for 40+ years, I still cannot operate most of my running-based electronics properly…