We are at KARC are super excited to extend an invitation to you to join and become a member of our wonderful KARC running community because we know that all these benefits are realized by our current membership – 461 members as of Nov 1 2022
Many of our members train for the Houston marathon or half-marathon, but many have other goals. Whether you're training for Chevron Full/Aramco Half, come join a wonderful, supportive running community that will support your running goals regardless of races. You will find a great diverse running family – runners, walkers, new and seasoned runners, 5K to ultra-marathoners, trail runners, roadrunners, etc.
KARC membership is only $38 (plus $2 PayPal fees). What do you get for $40?
Membership period:
The membership is for the calendar year from January 1st to December 31st.
Membership fee:
The annual membership fee is $40. The fee is not prorated for membership during only part of the year, although renewals and joiners in December will be granted membership for the following year.
Complete this member signup form.
Read and agree to waiver. You will be asked to initial your acceptance of this waiver as a requirement for KARC annual membership. You do not have to send back a signed copy of the waiver.
Please be sure to click Sign Up & Go for Subscription Payment Button at the end of the form to complete the process. On the next page, membership will be added to your cart, read the details carefully and proceed to checkout from the cart page. On checkout page, fill the billing details & make a payment.
All these steps are required for membership.
Pay membership dues via PayPal, credit card or by check. If you prefer to pay by check, please mail a check payable to Katy Area Running Club to 22136 Westheimer Pkwy #933, Katy, TX 77450.
Completing this step will add you to our database and subscribe you to all club communications. You can expect one email per week, typically on Fridays.
You will receive an email confirmation of your membership once your sign-up form is received.
If you later want to unsubscribe from email an option will be at the bottom of our email, although it is the main way to stay connected, in addition to a closed Facebook group and Instagram.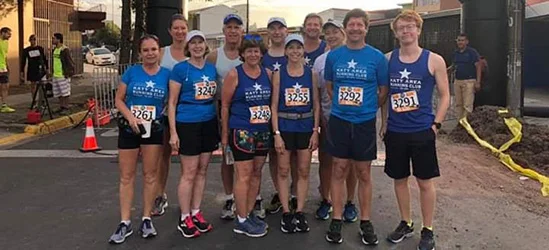 Our typical group schedule includes:
Tuesday runs (5:00 am/6:30 pm) at Cinco Ranch Junior High track
THURSDAY runs at 6:30pm at Willowfork Park – far back corner of parking lot (near the trailhead), and
Long runs on Saturday (various times but many starts at 6:00am) from Good Times Running Company at Villagio Shopping Center
We have 7 pace groups and each pace group has a pace coordinator who communicates with the pace group specifics of the Saturday run. Here are the KARC pace groups:
Bobcats – Walkers
Spartans – 12:00 min/mile or slower
Mavericks – 11:00-12:00 min/mile
Mustangs – 10:00-11:00 min/mile
Tigers – 9:00-10:00 min/mile
Cougars – 8:00-9:00 min/mile
Falcons – 8:00 min/mile or faster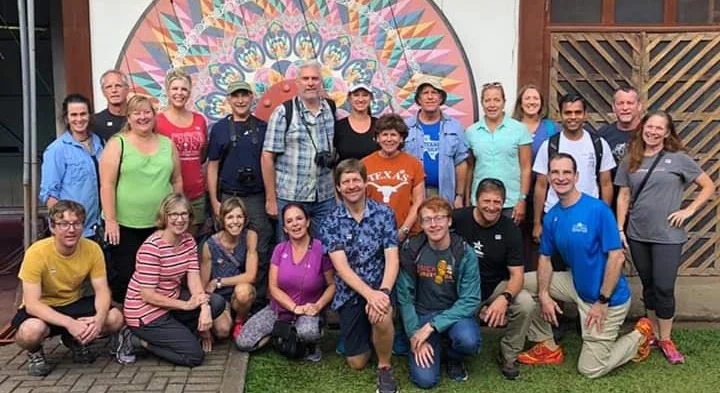 Should you decide to join the club, you would be provided contact information for your pace group coordinator after you join the club. Most KARC members connect through a member's only Facebook group. If you decide to join KARC, then you can request to be added to the member's only Facebook group. Please note that requests to join the member-only Facebook group before joining the club do not get approved.
We do have a public Instagram page where you can keep up with the club, so please give us a follow at @KatyAreaRunningClub.
We thank you for your interest and hope you will choose to become a part of the KARC family!
As members of the Katy community, giving back where we leave our footprints is one of our goals. Our running club LOVES Katy and will have volunteer opportunities as a club several times throughout the year.