2021 KARC Board of Directors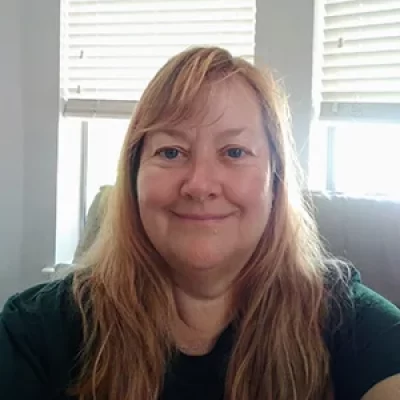 Yvonne has been president since mid year 2021 after serving as Treasurer and as a Director starting in 2019. Yvonne has enjoyed serving on the board and watching the club grow. She completed her first half marathon this year and learned the true meaning of "that was awful, let's sign up again". She loves the inclusiveness of the club that supports each other no matter your ability, age or goals. She brings 4 years of board experience, helping with the website, membership and the Back.2 school 5k as well as your weekly email and various other tasks. Yvonne is married to Craig and they have 2 wonderful sons who keep them in tune with the Millennial and Gen Z trends. Besides working on KARC stuff, and helping on the farm, she enjoys being retired after 30 years in upstream oil and gas where she held a multitude of roles in engineering and finance leadership.11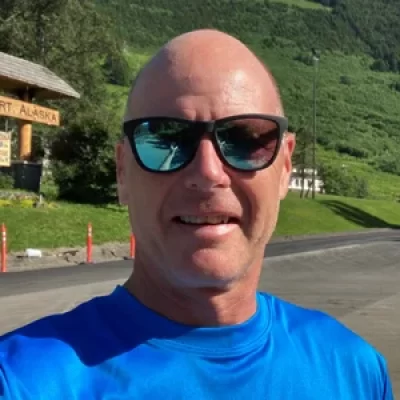 Carl has been a KARC director since 2021, a member since 2018 and a Katy resident since 2013. Despite confessing to hating running when he was at school growing up in England, Carl took up running in 2015 to help manage work stress. When working in drilling and completions for a major oil and gas company he's been able to run on work trips in places as far apart as Alaska, Aberdeen and Azerbaijan and running has developed into his number one hobby. Now retired, most of his running is done in Katy and he's found the friends he's made in the local running community to be a new 'family'. Carl has run 15 marathons and many more half marathons, 30k, 15k, 10k, 10 miler and 5k's with the first full distance being San Antonio in 2016. His current goals are to run the 6 Marathon Majors (with London, Boston and Chicago already in the bag), complete a Half Ironman in 2023 and keep going with a run streak that is at 1051 days! Carl is married to Natalie – a Canadian – and has 2 girls – Olivia 15 and Lauren 13 – both born in Alaska. He is also a fanatical supporter of Liverpool FC and is always keen to make sure his girls – in Katy HS and WoodCreek JH – follow the path of being a Red! Carl brings the fortunate gift of time to be able to dedicate to KARC, his leadership experience, a focus on the happiness and wellbeing of the people who are around him and a twisted British sense of humor!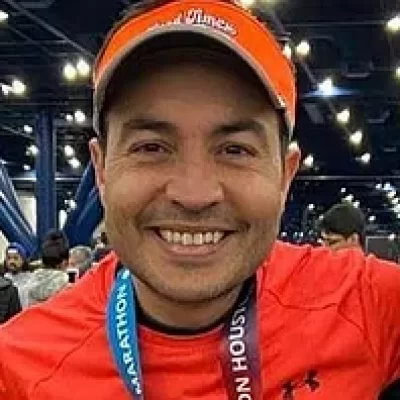 Arturo Reyes (Incumbent) – Arturo has been treasurer since the second half of 2021 and a director prior to that. He started running to pursue some health benefits in 2012 with KatyFit with a group called Blue/Greens!! Their coaches were Mike Masse and Rick Bozanich. He completed his first marathon in January of 2013 with a 4:56 time and have run every Houston Marathon since then. Arturo has run Houston Marathon 9th times and expects to finish his 10th Houston Marathon in January 2023. He has ran a total of 15 Marathons including a couple of virtual marathons in the past years, his PR was Chicago in 2022 with a 3:23! Arturo has also done many half marathons, 30Ks, 25Ks, 10Ks and been part of a team running the Texas Independence Relay and the Ragnar Relay Race. Arturo is a charter member of KARC and believes it has generated an amazing running community in the Katy area. Arturo enjoys running groups, loves to have long running conversations. He loves to pace friends in their races, adding some tunes and fun to every aspect of running. Arturo is originally from Mexico and has lived in the Katy area since 2008. He is married to Ana, who is the love of his life, and has two amazing kids, Diego, 15, and Amelia, 12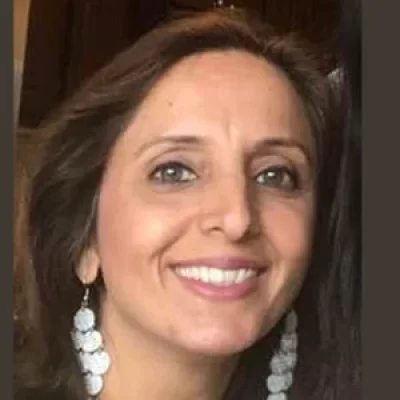 Nachiketa has been a director for the second half of 2021 and as an Officer, i.e., KARC's Secretary since January 2022. She has been involved with KARC in some volunteer capacity since joining the group in 2018.
My running journey had a rough start. After my first , ~0.1 mile run down the block, I was out of breath and thoroughly baffled as to why I could work out in the gym for 2 hours but not run down the block! I started to run a little bit at a time and was proud of herself when I ran my first 2 miles. That was in 2008. After that, I would run few miles per month for the next 5 years until I took my first leap and registered for the Blue Bell Fun Run 10k, which I completed in 68 minutes. This brought on a dream that if I could run a 10k after having run my first 6 miles the week of the of the 10k then I could definitely do a marathon! . I knew that I needed discipline, structure and support to achieve my goal. My search led to KARC, which I joined in spring of 2018. Since then, I have completed 6 half and 2 full marathon and am looking forward to running many more. With KARC, not only have I found the discipline to train but also a wonderful group of friends. I am an avid supporter of fitness / active lifestyle and encourage my friends and anyone I meet to take up what they enjoy. In addition to running, I love hiking with friends and visiting new places.
Beverly has been a member of KARC since 2017 and a director for the past 2 years. This year she took over the role of Director of Merchandising. Prior to that she had been in Katy Fit for a number of years. She is an avid walker and the pace group leader for the Bobcats also known as the Road Dawgs by many. Although it is labeled as walking we let it be known that we are not "Sunday Strollers " we walk at a pretty good clip! Beverly is also a member of the Texas Beef Team and has been since 2014. She has completed two half marathons and countless 10 &5K races. Beverly has served for the past three years as captain of the mile 2 refueling station for the Chevron Houston Marathon and has been named captain again for 2023. She is an excellent pace group coordinator and team motivator and has a wealth of knowledge as it pertains to the Houston running community and KARC. She has also been a Realtor for the past 10 years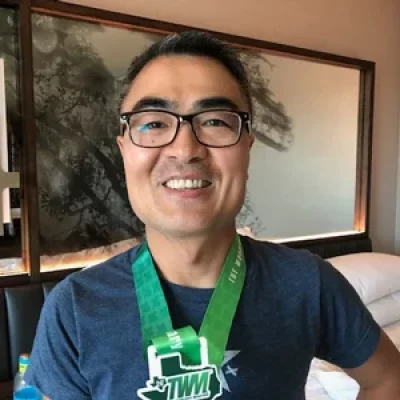 Brad has been a director in 2021 and a member since 2019. During most of Brad's adult life, running was something that he "ran" away from. When he turned 40, his teenage daughter outran him, by a large margin, in a casual "race you" challenge. That's when he realized that life is really more than just work. For better health and balance, Brad picked up running and joined KARC at the season-opening social event on July 20, 2019. Brad is forever thankful for the benefits brought by KARC – discipline, accountability, friendship, and humility. After joining KARC, Brad has run three marathons and a 50K. Just as promised by the Falcons group lender, Brad qualified and ran the 125th Boston Marathon along with many KARC members. As a board member of KARC, Brad is delighted to give back to the Katy running community by editing the monthly club newsletter and contributing to making KARC a meaningful club to all its members. Brad, his wife, and two daughters (a Junior and a Freshman in college) live in Katy. When not running, Brad practices real estate law in the Galleria area.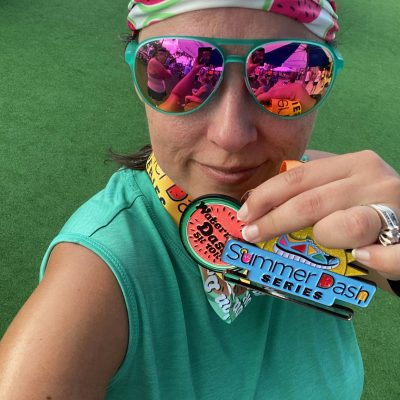 Traci has been a member of KARC since August of 2021. She completed her first half marathon this year and has been the administrator for the KARC Instagram account
and general social media queen for the club . She has enjoyed helping out with the social events and the back to school 5k. After working in the operating room for 15 years she decided it was time for a change and recently became a realtor. She is a wife to Tim Fields who is also in the group who plans to run his first half in January and a mom to son who is 23. When she isn't running she is either at Disney or at the beach. She has fostered and rescued dogs in her home for the last 10 years to find their furever homes. Traci is an avid supporter of each person and their accomplishments in the group. The friends she has met at KARC definitely have become like family.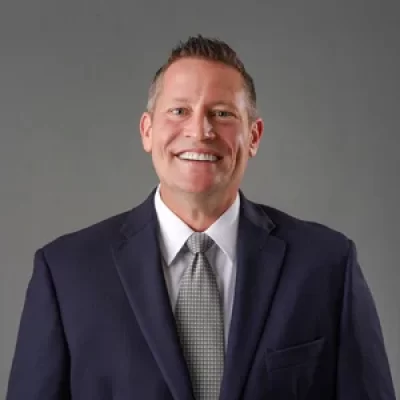 Kris has been a member of KARC for the past two years. He started with the group to further the health benefits that began while training with Gotta Run. In the past few years, he's lost 45 pounds training with the group and cut 25 minutes off his half-marathon time. He founded and ran the Katy Beer Run which served the Katy community for several years and over the past year has been delivering water for the runners here in Katy. Kris is a mentor at Cimarron Elementary and enjoys all the fun Dad things he gets to do with his 2 kids, Ella who is 15, and Lilly who is 5, such as soccer, gymnastics, dancing, and swimming. Kris has completed 6 marathons and countless half-marathons. Currently, he is training for the Houston Full and could not be doing it without the camaraderie of this group. When not running, Kris is selling houses in the Katy and West Houston area.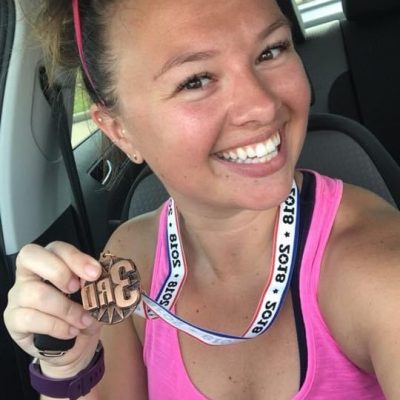 Nicole has been a member of KARC since January of 2021 but has been a part of the Katy running community since she moved to Texas in 2011. Nicole has been a runner for most of her life, but primarily for shorter distances. In high school, she thought the 2-mile time trial for the field hockey team was cruel and unusual punishment. Since moving to Texas from Maine, Nicole has completed two full marathons, more than two dozen half marathons, and various 25, 15, 10, and 5Ks. She has been a part of multiple Ragnar and TIR teams, as well as several virtual challenges like running 2015 miles in 2015. Nicole is a pharmacologist and works as a Senior Benefit Analyst with OptumRX. In her free time, she enjoys baking, hence her nickname Cupcake, reading, and snuggling her kitties, Puck & Beau. Nicole is no stranger to volunteering her time to nonprofits. She also volunteers with the Houston Livestock Show and Rodeo. In 2021 she committed more than 300 hours of her time to her leadership role within her committee. Nicole has decided has to take this opportunity to bring her experience in serving others to help the club expand its inclusiveness and represent the interests of this varied community.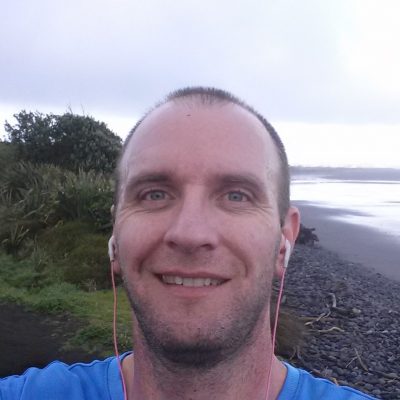 James has been a member of KARC since its founding in 2016. He's lived in Katy since 2009 and has been shuffling around the South Katy bayou trails since 2012 when he was forced to decide between eating less and getting more some exercise. Among his favorite things to do while running is complain about how hot the weather is (year-round), post too many sunrise pictures on his Strava feed, and draft off runners who are faster than him (also does this while cycling).  James decided to run for a board position after realizing many of his favorite people are runners and that he may not have met them without this amazing running community. He would like to help others find their new favorite people by giving back to the community in whatever way he can. James is an Operations Manager for an oilfield services company, so organizing projects and people is something he has a lot of experience with. He is hopeful those skills can be useful in helping KARC fulfill its mission of connecting runners. James and his wife Jen have 4 wonderful children and are excited for their oldest to be graduating from high school this year. As a family they enjoy long road trips, visiting national parks, and fulfilling their dream of trying every hamburger joint in the greater Houston area.