Jen Dumas is no stranger in the Katy running community. You probably already know her by her bright smiles, easy manners, and fun-loving personality. An avid runner and a triathlete, Jen is someone you should know better. 
Where are you from?
I was born in Vernal, Utah which until now has been my best-kept secret.  My dad was a Petroleum Engineer, and we moved every year or two between Utah, Colorado, and Texas.  When I was 10, we moved to Houston, and I've lived here ever since.
Tell us about your family.
I've been married for 26 years to my husband, Miles Dumas, a Katy native.  My oldest daughter, Brooke, is in Nursing School at Texas Tech University.  My youngest daughter, Claire, is a sophomore at High Point University in North Carolina. Both of my girls were cheerleaders in school and competitively from 7th grade to college.  I have an awesome yellow lab, Duke, who loves to run, retrieve, and swim.  You may have met him at the Jingle Bell run the past 2 years.
What's your profession?
I have worked in IT for over 28 years mainly in software development, integrations, and configuration for the title insurance and real estate industry.
When did you start getting into running/walking?
I ran track in high school, but mainly short distances. It's funny looking back because I thought a 400-meter run was considered long distance. I was always athletic but turned my focus to distance running in 2010.
Why did you start?
I began running in 2010 because a group of colleagues talked me into signing up for the Rock & Roll Half Marathon in Nashville, TN.  Ten people from the company trained virtually together and ran the race:  Five people from the Houston office and five from the Nashville office.  Only two of the ten were regular runners, and we decided to do a competition to see which office had the best running times. Anyone who knows me knows that I am highly competitive. I had to start training so I could help our office win.  We created 2 trophies: one for the winner and one for the loser.  They were both made from an old pair of running shoes attached to a foam core board.  The loser took home the trophy made with the shoe that was falling apart and had a tire print across it representing roadkill.  The winner took home the trophy with the shoe painted metallic gold.  Of course, you know which trophy I came home with. 🙂   I think I wore my medal to work the entire week after the race. That was my first half marathon, and I haven't stopped since.
What are your most memorable races?
My two favorite races were the Cascade Super Series in Washington state and the New York City Marathon.  The Cascades Super Series mirrors the course of the Light at the End of the Tunnel aka the Tunnel Run. The course is on an old railroad track, downhill on Snoqualmie Pass. The scenery is beautiful and peaceful. On race day, it felt like a nice, nature run instead of a marathon.  The weather was perfect, I PRd and got my first BQ, NYCQ, and ChiQ, all at the same time. That was money well spent. 😊
The New York City Marathon was my favorite because the race was just EPIC!  It was the 50th running of the race and the crowd support was unbelievable.  Running through the boroughs and seeing the residents taking time out of their day to cheer me on was inspiring. Police officers, firefighters, and all manners of people lined the streets the entire way.  It made me feel proud to see "the great American melting pot" of culture and diversity all unite in participating in the race, whether they were running or cheering.  I love this country and the freedom we have.  This race represented that to me and I could do it over and over again every year.
Any races lined up?
Boston 2023. I qualified for Boston 2020, which we all had to run virtually. Then I missed Boston 2021 because my prior qualifying time expired.  Boston 2023, I'm coming for you!
I've had a rough 2022 from an injury perspective and now that I am on the road to recovery, my fitness goals are to continue cross-training to improve my flexibility and strength.  I want to have a solid, healthy training season for Boston.  I want to run the race well but enjoy it.  Sometimes we get so focused on time goals that we forget to focus on the actual city, the race itself, and the joy it brings.  I don't want to miss it in Boston.  I've worked too hard to get there to not enjoy the race and soak it all in.
Other than that, who knows maybe I'll get into Berlin 2023…maybe I'll run Rim to Rim…maybe I'll do the Cozumel Half or Full Ironman…or maybe I'll just run from GTRC.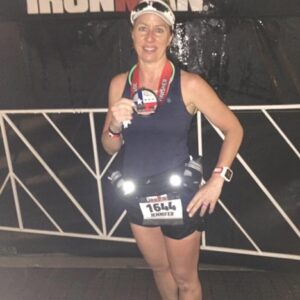 Other interesting facts/info: 
Lastly, I am a triathlete that has been in retirement since 2016.  I completed the Half Ironman in Galveston in 2015, the Full Ironman Texas (IMTX) in 2016, and many sprint triathlons since 2013.  I trained for these races and competed in them with many that are in KARC and in the Katy local tri community.  Just as in running, the training for the race is just as much fun as the actual race itself.  I cherish the friends I have made along the way, and I'll never forget these great athletes that have been part of my journey.  Crossing the finish line at IMTX was one of the best days of my life and if you want to hear about it, just grab a glass of wine (or two) and I'll tell you.